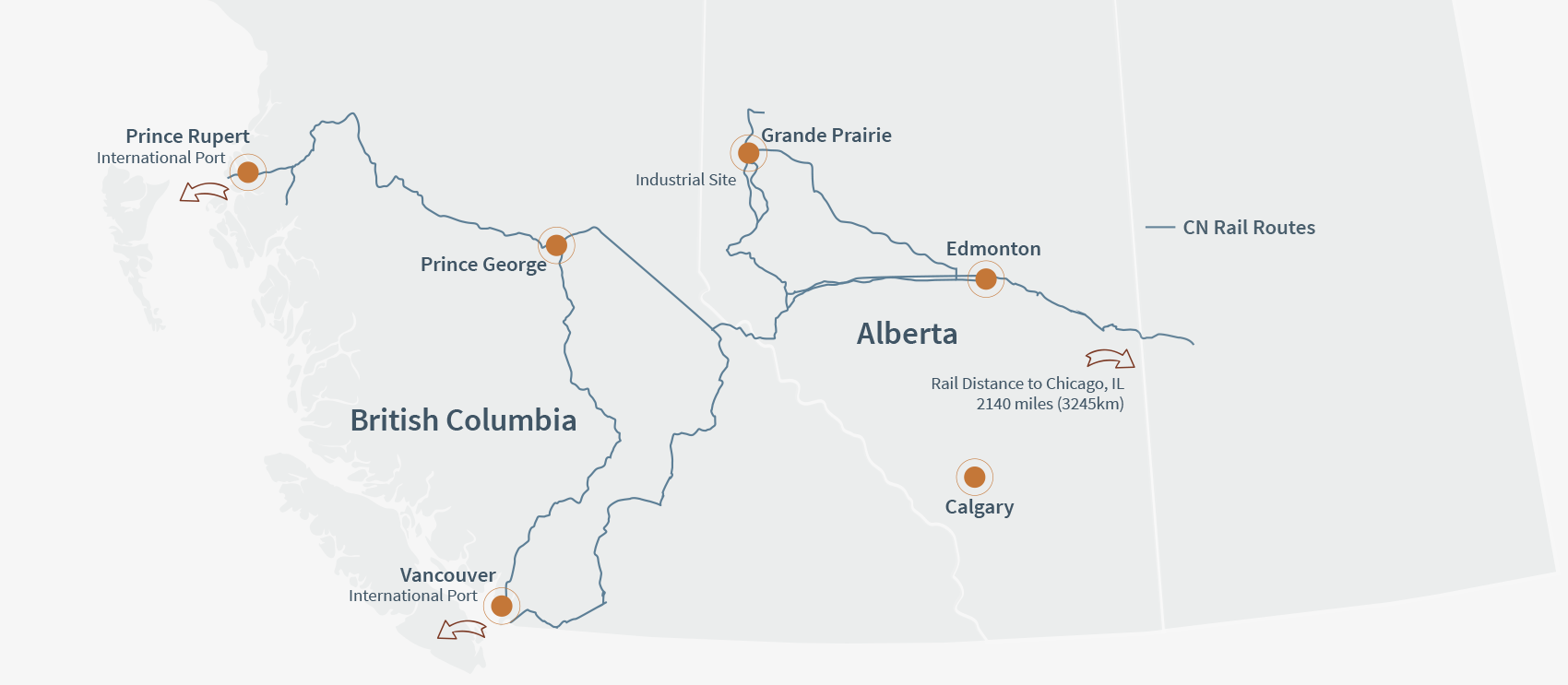 Transport from Grande Prairie to Ports
CN Rail line could move to ports in a number of ways. Ultimately, the method of shipping the commodity, car choice, destination and service options will dictate which route and which destination will best serve your requirements from Grande Prairie.
Distance from Y-49 to Port:
Port of Prince Rupert direct – 1536 km
Via Edmonton – 2150 km
Port of Vancouver direct – 1210 km
Via Edmonton – 1835 km
Overnight to Port of New Orleans
Port of Prince Rupert
With the distinct advantage of being the closest North American port to Asia by up to three days, the Port of Prince Rupert is uniquely positioned on the shortest trade route between the world's most dynamic economies – an ideal location to serve shippers and producers, facilitate trade and grow the Canadian economy.
With five world-class terminals, including the fastest-growing container terminal in North America and ample industrial land ready for development, the Port of Prince Rupert is growing Canada's trade with Asia's fast growing economies safely, responsibly and sustainably.
Port of Vancouver
The Port operates within the traditional territories of several Coast Salish First Nations. By the start of the 1800s, early explorers recognized Metro Vancouver as an ideal trading region. Today, Port Metro Vancouver is the most diversified port in North America and a major economic engine for Canada, trading $172 billion in goods with more than 160 trading economies each year.
Via Chicago
Chicago has long been the most important interchange point for rail traffic in North America. Often referred to as chokepoint USA. In 2007 CN bought Elgin, Joliet and Eastern Railway (EJ&E) giving CN a continuous route around Chicago cutting congestion and increasing its velocity by 60% and volumes by 74%. Transport via land from the Port of New Orleans is 926 miles.